Best Domains, Hosting, and Affordable Digital Marketing Services for Your Business
Search & Register Your Ideal Domain
Features to start, sell & grow
Most frequent questions and answers
Web hosting is a service that allows individuals or organizations to make their website accessible via the World Wide Web. It involves renting space on a server where your website files are stored, making them accessible to anyone with an internet connection.
A domain name is the address of your website. It is the text that people enter into their web browser to find and visit your site. For example, www.watni.pk is a domain name.
Yes, you can. Most web hosting services like Watni Host allow you to use your own domain name with their hosting services.
Digital marketing is the practice of promoting products or services through digital channels such as search engines, social media, email, and mobile apps. The goal is to reach and engage with a targeted audience, driving traffic and sales to a website.
Yes, we offer a range of digital marketing services including search engine optimization (SEO), social media marketing, email marketing, and pay-per-click advertising.
Yes, we can help you choose a domain name that is both memorable and relevant to your business. We can also help you register your domain name and set up your hosting.
Yes, we offer website design and development services. Our team of experts can create a custom website that is tailored to your specific needs and goals.
The cost of web hosting and digital marketing services varies depending on the services you require. We offer a range of packages to suit different budgets and needs. Contact us for a quote tailored to your specific requirements.
Yes, we offer search engine optimization (SEO) services to help improve your website's ranking on search engines such as Google. We use a variety of techniques to increase your website's visibility and drive traffic to your site.
We pride ourselves on offering exceptional customer support. Our team is available 24/7 to answer any questions or concerns you may have. We are committed to ensuring that our customers are satisfied with our services.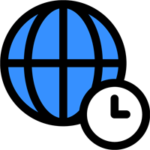 Domain Alert® Pro Backorder
If the name you want is already registered, you can still own it! Secure your chance to snag up a domain* the instant it becomes available.
Includes the cost of registering the domain name.
If you don't get the name, you don't lose — just re-assign to another name.
*Includes .COM, .CO, .INFO, .ORG, .NET, .ME, .MOBI, .US or .BIZ.
Domain Registration
Each and every domain name comes with all you need to get online.
Domain Forwarding and Masking: Direct any domain name you own to your website. Anyone who types that domain name into their browser is taken directly to your website.
Domain Locking: Domain locking prevents accidental or intentional transfers of domain ownership and stops anyone from redirecting your nameservers.
Total DNS Control: Manage your domain nameserver (DNS) records and set your email, FTP, sub-domains and website location all from one control panel.
Change of Registration: Assign your domain name to someone else or change the contacts for your domain online anytime.
Status Alerts: Monitor the status of your domain and get instant alerts if there's been a change.
Auto Renew Protection: No need to watch expiration dates to make sure you renew on time! Auto renew keeps your domains, hosting, website builders, and other products in your name and under your control.
Domain Disclaimers:
Special savings apply only to first year of registration. You must purchase entire section to qualify for special savings.
The final price may differ because of additional sales, fees, and promotions.
Products will automatically renew until cancelled. You may turn off the auto-renewal feature by visiting your account.
Change of registration may require a fee for certain domains.